Zenlens™ scleral lens, from Bausch+Lomb fully vaults the cornea and allows you to fit a wide variety of corneal shapes and sizes using a single fitting set and fitting philosophy. It offers you: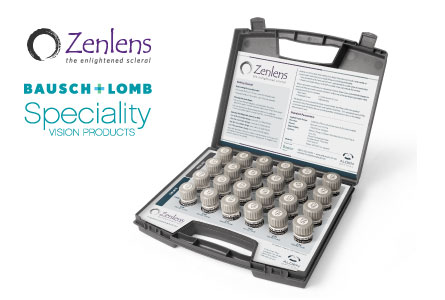 A fundamentally well-designed scleral with refined peripheral curves and generous landing zone – great fit and comfort "out of the box"
Lens diameters of 16.0 mm and 17.0 mm – appropriate for a wide range of corneal sizes
Prolate and oblate designs to fit a wide range of corneal shapes
Smart Curve™: modify only the parameter you want, not the ones you don't
Custom design options to fine-tune optics and physical fit
A comprehensive 28-lens diagnostic set for efficient fitting
Featured in Boston XO Materials with a Dk of 100; also available in Boston XO2® with a Dk of 141
While the Zenlens™ Lens can be customised to nearly any parameter, fitting within the standard parameters should be adequate for the vast majority of patients. Toric peripheral curves, customised center thickness, flexure controlling profiles, and front toric Rxs can also be ordered when needed. Standard or custom – you'll get the fit you need.