Boston Advance Conditioning Solution contains a patented comfort system that coats and cushions GP contact lenses for exceptional lens comfort. It has a dual preservative system providing maximum disinfection to kill harmful micro-organisms.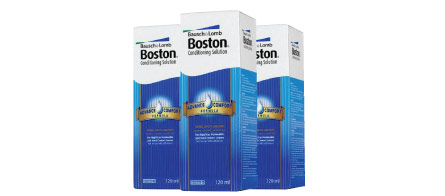 Contraindications
Not for use with soft contact lenses
Do not use if patient allergic to any ingredients
Package Size
Recyclable bottle containing 120ml  solution
Starter kit contains 10ml conditioner and 30ml cleaner
Key Features & Benefits
For disinfecting and soaking fluoro silicone acrylate and silicone acrylate GP contact lenses.  Must be used with Boston Advance Cleaner.
Preservatives
Polyaminopropyl Biguanide (0.0005%)
Chlorhexidine Gluconate (0.003%)
Disodium Edetate (0.05%)